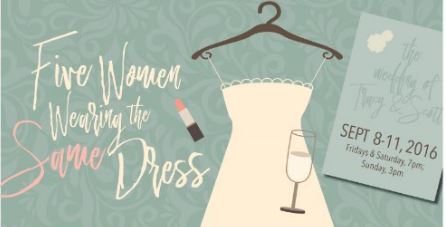 ◈◈◈ Five Women Wearing the Same Dress ◈◈◈
Written by Allan Ball
Directed by Jacquie Patteson
Produced by Anne Taetzsch Fitzgerald
• • • • • Show Dates and Times • • • • •
September 8-11
ONE WEEK ONLY
Thursday - Saturday at 7:00pm
Sunday Matinee at 3:00pm
TICKETS:
(1) Online through Vendini ~
www.shenanarts.org
(2) Box office hours - Wed. 1:30-5:30 & Fri. 10:30-2:30 | 540.712.0001
(3) Downtown at Black Swan Books and Music | 1 E. Beverley Street
ShenanArts nTelos Theatre at Gypsy Hill Place
300 Churchville Avenue, Staunton, Va.
• • • • • About the Show • • • • •
Written by Alan Ball, who created "Six Feet Under" and won an Oscar for the "American Beauty" screenplay, the 1993 work is set at a society wedding in Knoxville, Tenn.During an ostentatious wedding reception at a Knoxville, Tennessee, estate, five reluctant, identically clad bridesmaids hide out in an upstairs bedroom, each with her own reason to avoid the proceedings below. They are Frances, a painfully sweet but sheltered fundamentalist; Mindy, the cheerful, wise-cracking lesbian sister of the groom; Georgeanne, whose heartbreak over her own failed marriage triggers outrageous behavior; Meredith, the bride's younger sister whose precocious rebelliousness masks a dark secret; and Trisha, a jaded beauty whose die-hard cynicism about men is called into question when she meets Tripp, a charming bad-boy usher to whom there is more than meets the eye. As the afternoon wears on, these five very different women joyously discover a common bond in wickedly funny, irreverent and touching ways.
• • • • • Cast • • • • •
Frances..............Savhanna Jones
Meredith............Ashley Showalter
Georgeanne........Leslie Scott-Jones
Mindy.................Jenny Howard
Trisha.................Jennifer Jones
Tripp..................Scott Woofter
PRODUCTION:
Director: Jacquie Patteson
Assistant Director: Diana Black
Producer: Anne Taetzsch Fitzgerald
Technical Director: Tom Kernan
Stage Manager: Brandon Cline-Taskey
Sound Design : Cori McDaniel
Set Design: Patrick Smith
Set Realization: Greg Beam & Morgan Alberts Smith
Props: Steven Altis
Reece Middleton: Hair and Makeup Design