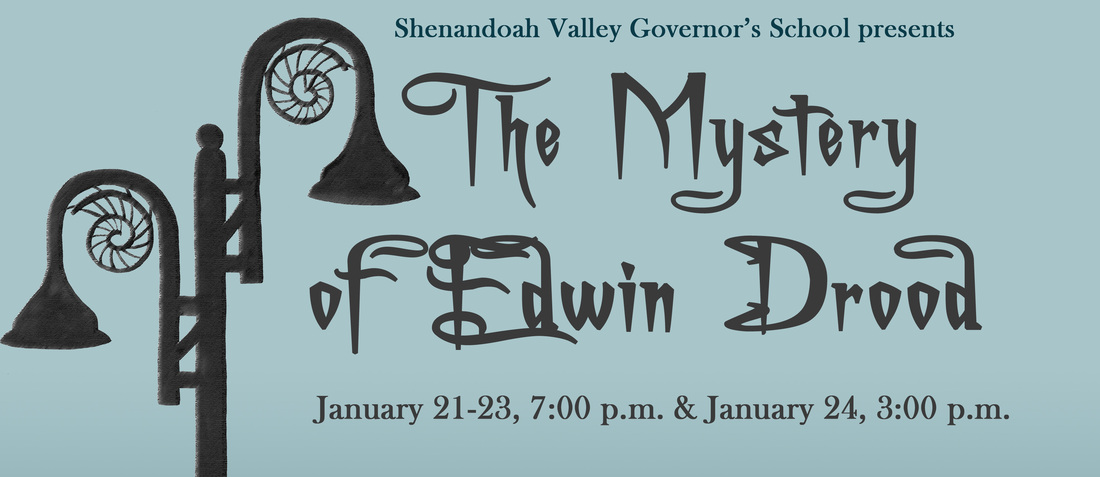 The hilarious, interactive whodunit mystery musical!


This wildly warm-hearted theatrical experience kicks off when the Music Hall Royale (a hilariously loony Victorian musical troupe) "puts on" its flamboyant rendition of an unfinished Dickens mystery in The Mystery of Edwin Drood. The story itself deals with John Jasper, a Jekyll-and-Hyde choirmaster who is quite madly in love with his music student, the fair Miss Rosa Bud. Now, Miss Bud is, in turn, engaged to Jasper's nephew, young Edwin Drood. Our title character disappears mysteriously one stormy Christmas Eve-but has Edwin Drood been murdered? And if so, then whodunnit? Musical numbers include The Wage of Sin, Perfect Strangers, Both Sides of the Coin, Don't Quit While You're Ahead and Moonfall. The giddy playfulness of this play-within-a-play draws the audience toward one of the play's most talked-about features, which allows the audience to vote on the solution as prelude to the most unusual and hilarious finale!


CAST
Chairman of the Board/Mayor Thomas Sapsea....Abbey Kincheloe
Clive Paget/John Jasper.........Brant Fife
Angela Prysock/Princess Puffer.........Morgan Thomas
Alice Nutting/Edwin Drood........Hailey White
James Throttle, Stage Manager.........Rachel Dixon
Deirdre Peregrine/Rosa Bud.......Audrey Wood
Janet Conover/Helena Landless.........Callie Bandy
........U/S Courtney Ott
Victor Grinstead/Neville Landless.........Michael Hawes
Cedric Moncrieff/Reverend Crisparkle.........Nathaniel Marion
Phillip Bax/Bazzard..........Jacob Wine
Nick Cricker, Sr./Durdles.........Savannah Lunger
.......U/S Elle Wood
Nick Cricker, Jr./Deputy.........Molly Diment
Florence Gill/Beatrice.........Darby Lucius-Milliman
Isobel Yearsley/Wendy.........Morgan Lyle
Horace.........Ben Delahay
Shade of Jasper.........Bekah Trumbo
Shade of Drood.........Nicole DiOrio
Featured Dancers.........Grace Belcher, Julia Bussey, Nora Oeschlin
Company/Citizens of Cloisterham..........Grace Belcher, Julia Bussey, Ben Delahay, Nicole Diorio, Kennedy Eakin, Mary Grace Graber, Jordan Huffer, Nora Oeschlin, Courtney Ott, Sarah Riddell, Emily Thompson, Bekah Trumbo, Elle Wood, Jasper Wronko

Production Stage Manager....Megan Pelaccio
Dance Captains....Nicole DiOrio, Bekah Trumbo

THE MYSTERY OF EDWIN DROOD is produced by arrangement with TAMS-WITMARK MUSIC LIBRARY, INC.